How to choose the right bike bags?
It is certainly not easy to answer this question. Your journey, the roads and paths you take and your personality will determine the most appropriate type of bike and saddlebags for you.
Bicycles without carriers
It is generally possible to attach a carrier onto a bicycle even if originally not designed for. Exceptions to this rule are road bicycles with carbon frames and mountain bikes with suspended frames. However, it stills make sense to be willing to travel on such bicycles:
on paved roads, travelling on a racing bike can be a good idea when a certain level of performance is required (e.g. fast cycle trips or long distances where lightness is crucial). In this case, the traveler will select a saddle bag of the "bikepacking" range, in addition to a handlebar bag and possibly a frame bag.
on unpaved roads, in singletrack, in forests or mountains, the use of a mountain bike or a gravel bike without luggage rack is required. For this practice, we will obviously move towards bikepacking bags range with the advantages of being light weighted and fixed near the frame, facilitating the handling and balance of the bike.
If the bags are not 100% waterproof, it is crucial to store the items that must remain absolutely dry (electronics, clothing…) in waterproof bags.
Travelling with bikepacking bags can be attractive and offers multiple advantages as explained above. However, you should be aware of the following :
volume of the carried luggage: even if you do it right, it will be difficult to carry over 40 liters of luggage. This is a relatively limited volume and less than what a pair of traditional rear bags can hold (+/- 45 liters). It is possible to travel independently in this configuration even with the camping gears but, unless the trip is short, a well tempered character will be essential to bear with the lack of comfort resulting of this.
in terms of convenience, we remain far below what can be achieved with traditional panniers. As an example, there is no way to access a jacket at the bottom of the saddle bag along the way…. The art will be to organize everything at the right place.
It is not surprising that the word "bikepacking" has become almost synonymous of a mindset, rather than a transport bag type only.
Bicycles with carriers
Carriers on the bike means traditional bags and panniers. Their number and volume are defined according to the quantity of luggage to be carried. The trap is to proceed inversely: selecting the luggage according to the volume available in the bags. In the latter case, we are very likely to find ourselves with a lot of useless and generally very heavy stuff…
We will start with a pair of rear bags and a handlebar bag for things that require easy access on the road (ex: camera, small change…). A camping tent or a rackpack bag will generally be attached on top of the rear bags. Many long-distance travellers do not exceed this set up, but there is always a way to add 2 smaller panniers on a carrier at the front of the bike.
Reasonably (really!) you have to be careful not to go any further by stacking the rackpacks or adding a trailer…
In terms of weight, it is unreasonable to exceed 25 kg (+/-5 kg per bag). For a better balance of the bike, it is advised to place the heaviest objects as low as possible (at the bottom of the rear bags or even better in the front panniers).
For your occasional trips of a few days, we suggest you make your choice in our Touring range. The bags in this category are large and generally light and compartmentalized, which will allow you to organize and easily find your belongings. The compartmentalization of the bags is made possible by the fact that their seams are stitched, with consequence they lose their 100% waterproof feature. To overcome this, they are all supplied with waterproof covers.
For more frequent and especially longer trips, we advise you to choose in our Trekking range. In addition to being voluminous and totally waterproof (the seams are generally welded), the bags in this range will last longer under strenuous travel conditions (weather, shocks, mud, dust, handling during transport by bus, plane…)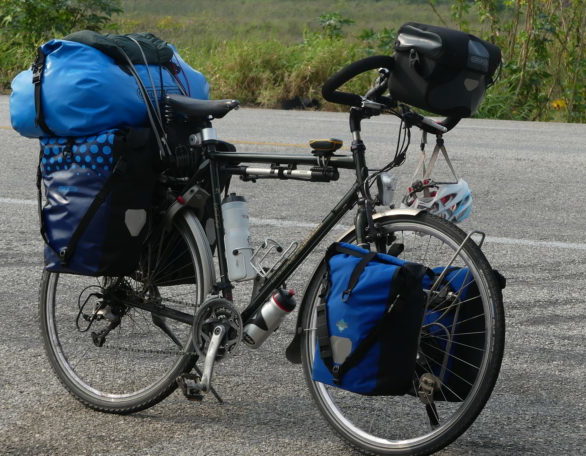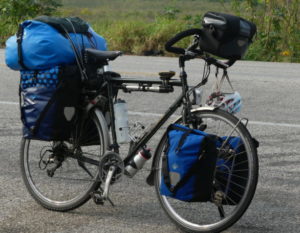 All travelers will testify: a thorough organization is required when filling the bags. Everything has its dedicated spot and keeps it throughout the journey. Filling them randomly each morning is the best way to avoid closing them properly and to have to turn everything over each time you need to access a specific object. Experienced travelers even mark their saddlebags to recognize them when they are closed. Storage accessories are also available for optimal bag organization.
Finally, we want to make you aware that even a 100% waterproof bag does not stop you from protecting your moisture-sensitive belongings (electronics, certain clothing, etc.) in other waterproof and lightweight bags (such as "drybags").
The side panniers we sell have fixing systems in the form of 2 plastic hooks on the top, adjustable and locking around the upper horizontal tube of the luggage rack and on the bottom of a shark tooth also adjustable on a rail allowing to pass behind one of the tubes of the luggage rack to completely secure the pannier on the carrier.
Finally, since panniers are not indestructible (e. g. in the event of falls), it is advised to take with you a repair kit (e.g. "Seam Grip") on long trips, which can also be used for the tent, the air mattress, etc.
Luggage trailers
The reasons for using a trailer to transport your luggage are multiple :
the wish not to ride a loaded bike
the impossibility to fix a carrier or a not adaptable bicycle (ex: racing bike or suspended mountain bike)
to increase the reliability if the bike is considered as too light and fragile to be loaded (frame, wheels, etc.)
Unfortunately, the trailer has some disadvantages: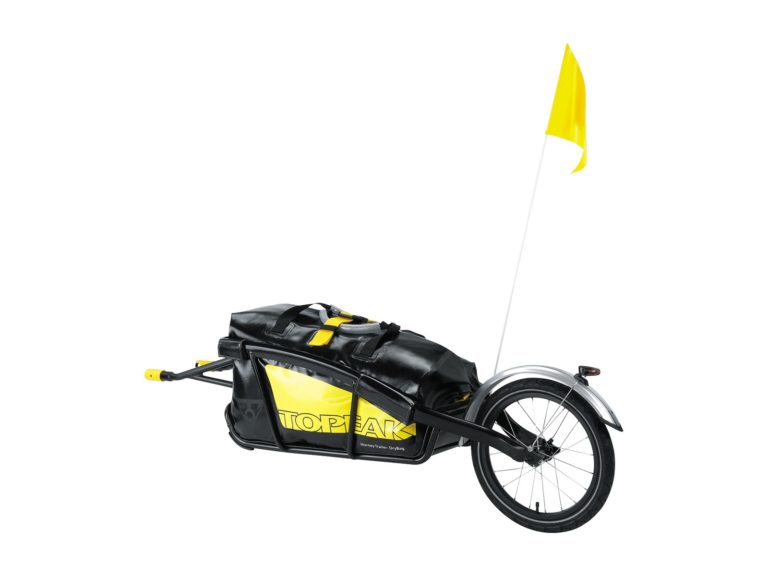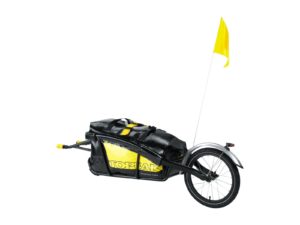 less convenient than separate panniers (all in one large waterproof bag)
higher price vs. 2 pairs of quality bags
additional weight
not easy to carry in public transport
sometimes difficult to handle in the city or on winding bicycle paths….
It can nevertheless be a solution for rather short trips when the use of panniers is a problem.
We offer you the Topeak trailer that is rather light and reliable.
A complete choice of bags for all your travels
At RandoBikeShop you will find a complete range of bags for all your rides and bike trips. You will be able to make your choice according to your wishes, needs and budget.
Rather than offering you an extensive catalogue of brands and models in which you will ultimately have difficulty making your choice, we prefer to focus on a few brands in which we believe and which offer a good price/quality ratio. We also ensure that all your usage models are covered.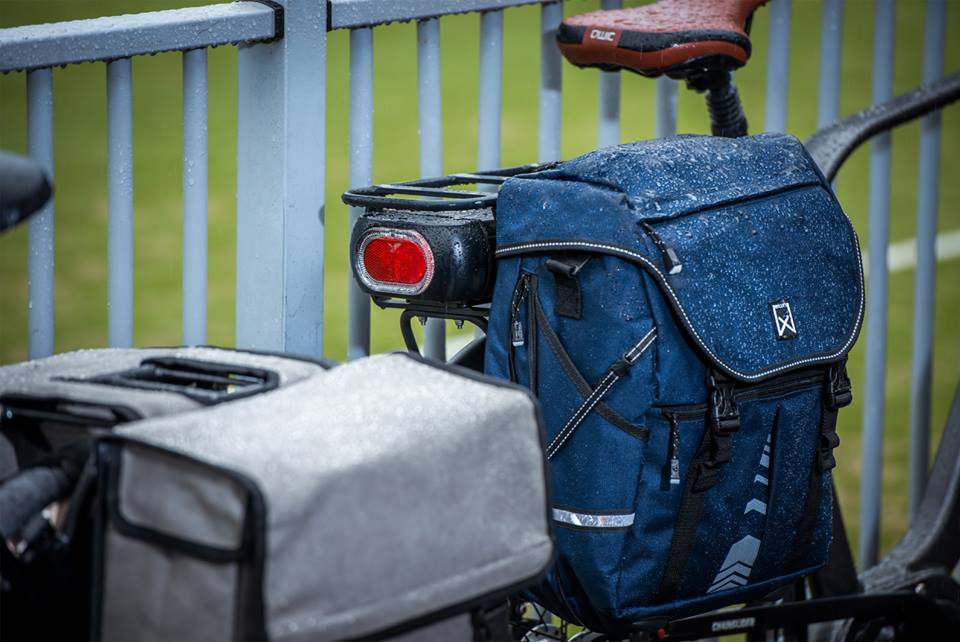 Touring
Vacances et week-end à vélo