Waterproof bicycle bags for "trekking"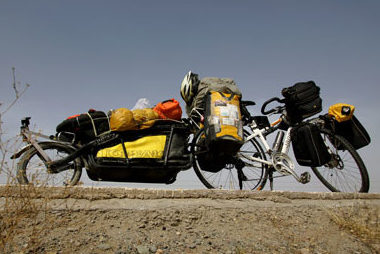 Our "trekking" bags range will follow you on your most adventurous trips.
Trekking bike bags are 100% waterproof and will resist to the most strenuous weather conditions. Those will keep your belongings safe and secure without the need of protective covers.
These robust and durable bags will resist the toughest travel conditions for months or even years.
The cyclist's loading is generally divided into two or three rear panniers, a handlebar bag and two front side panniers.

Waterproof bags are usually made from modern materials, tarpaulin-style, with or without PVC depending on the manufacturer. For perfect waterproofing, the edges are welded rather than sewn. They are easy to clean: a simple damp sponge is all it takes. On the other hand, the holes (in case of fall for example) are less easy to repair.
Carradice is nevertheless an exception to the rule with its Super C range. These bags are made of waxed cotton duck. Waterproof and not really heavier than the others, these panniers are perfect if you want to be part of an ecological and sustainable approach. They are also cleaned using a damp cloth and soap, but they must be re-waterproofed with ad-hoc wax. In case of a hitch, you can repair them anywhere in the world: a needle and sewing thread will suffice.
All our panniers for "trekking" :