Description
This adapter is suitable for all bicycles (road or mountain bike, rim or disc brakes) whose wheel is attached to the frame by a Quick Release.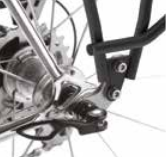 Compatible with Tubus Fly Classic and Racktime Lighit, but not for the Tubus Logo 29 "
Not suitable for bicycles with rear "thru axle".

Note:
this adapter set is not compatible with the Tubus Evo-models.
this adapter set is slightly less resistant than the traditional eyelet fastening. It is recommended not to exceed 25 kg of payload on the luggage rack.